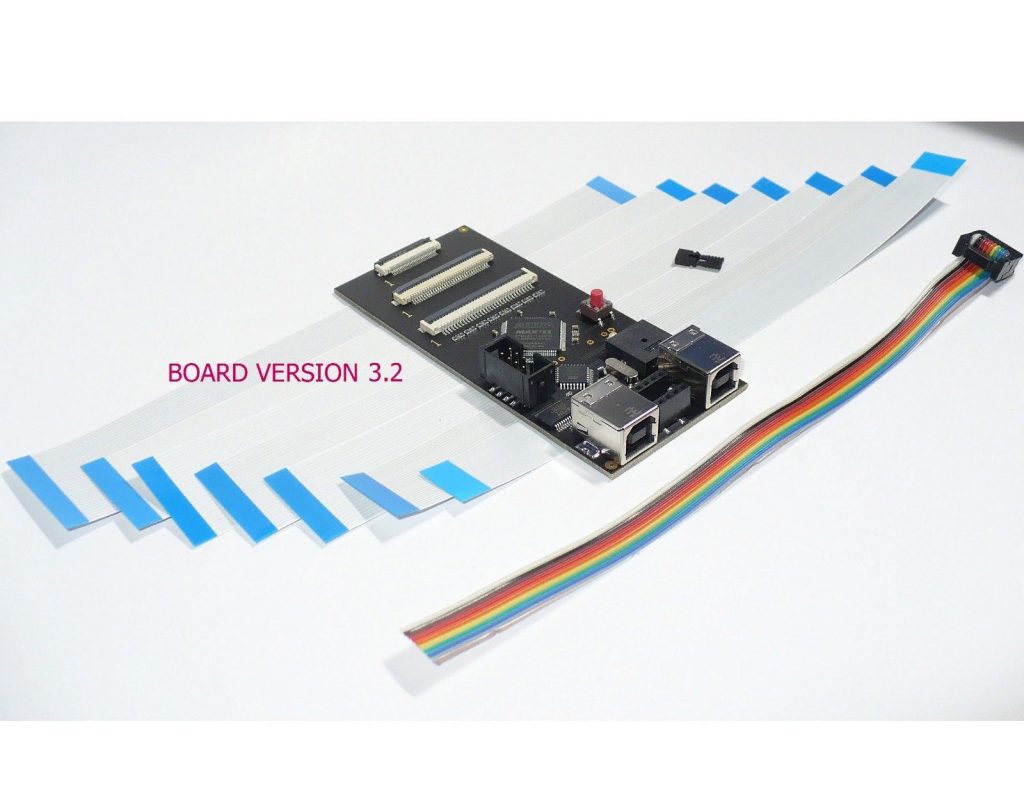 السعر 2800 جنيه
هذا مبرمجه روسي التصنيع لها القدره علي شحن كل انواع الايسهات الكنترول IO الموجوده في اللاب توب وتعمل بفلاتات من المبرمجه الي مدخل الكيبورد وساهله الاستخدام وتبرمج اي ايسي في بضع ثواني وهي الان الافضل في المنافسه واخر اصدار هو 3.2 Vertyanov
اليكم فديو لشرح البرنامج
Vertyanov JIG programmer
USB Vertyanov JIG V3 programmer BOARD VER 3.2 for laptop repair without EDID cable !
software version 7.7 and newer Features: The new version Vertyanov JIG V3.2 is able to:
1 Program EC NPCE288N / NPCE388N via the keyboard connector or an external adapter.
2 Program EC KB9010/9012/9016/9022/9028/902
3 Program EEPROM LCD panels (EDID display).
4 Program EC IT8386E – 192KB IT8580/8585/8586/8587/8985/8987- 128KB. Other EC ITE simply not been tested.
5 Program EC MEC1609/1619/1633L.
6 Extras can check in an autonomous mode, the keyboard laptop sockets with a pitch of 1 mm / 05mm / 08mm.
(Audible alarm keystrokes and errors (buzzer).)
7 Keyboards can be checked through the shell on the PC.
8 EC Exolore EPF011/021/035/036/037 with adapter.

Two ways of programming the memory EC NUVOTON (NPCE288N / NPCE388N) – directly on the MB laptop via the keyboard connector or on the external adapter.
Reading Time Loop 70 seconds. Time erase + write about 20 sec.
Firmware ITE EC (IT8585E, IT8586E etc.) is through the keyboard connector without soldering.
Recording – from 100 to 200 seconds. Reading to 20sec. Increased speed in comparison with the previous version.
Firmware EC ENE (KB9010 / 9012/9016/9022) is through the keyboard connector without soldering – now automatically!
Reading about 10 seconds. Recording with verification of no more than 20 seconds.
You must have two cable USB B – square as printers, scanners, etc ..
One cable for connecting to the PC, and the other to connect the ground programmer and laptop motherboard.
Shell works on all OS Windows XP / 7/8 / 8.1 / 10-bit word length 32/64.
We do not have any activations. Buy a programmer and upload freely available all the necessary software.
Free support on certain forums.WE SEND A SET OF POSITIONS :1)The JIG PROGRAMMER main module with all installed FFC connectors in steps of 08mm (34 pins), 1mm (32pin), 05mm (32 pins).2) Basic set of FPC cable for 24/26/28/30/32 (1 mm pitch) + 2 FPC cable (05mm 30 pin and 08mm 26pin) for connecting the MB and the programmer through the keyboard connector.
translation for Russian buyersПрограмматор от Сергея Вертьянова VER 3 (с форума notebook1), версия платы 3.2, версия программы 4.95 – 7.7 и выше документация и программное обеспечение можете скачать сами с форума или доступно по запросуесли у Вас уже есть подобный программатор предыдущих серий, новая программа поддерживает и их после перепрошивкимульты NUVOTON 288 388 NPCE288NA0DX NPCE288 NPCE388 в корпусе TQFP128 поддерживаются и без дополнительных плат
For service intended specialists only !
Please use only original USB drivers and software !!! We only accept payments via PayPal.Warranty & Return:All products have been checked and packaged in good condition before dispatch.In case the item is defective, please inform us within 30 days of receipt, we will replace a new one. No Refunds are offered.Buyers have to pay for the return cost and we will pay the cost for resend.
If you do not understand its purpose – please not buy !
ITE it8585e programming ITE it8586e programming ITE it8985e programming ITE it8587e programming ITE it8522 programming ITE it8987e programming ITE it8589 programming ITE it8522 programming ITE IT8380E programming 192kb ITE IT8380VG programming 192kb ITE IT8995E-128 programming ITE it8886H programming ITE it8886he programming ITE it8386 programming